Neece posted
on the
Codex Sinaiticus
a few weeks ago. I've been digging around, reading it (a little) and about it, and was formulating a reply to add to her article. After a bit of writing, I decided I should just make it a separate article.
Let me start with a little background information. Many Christians mistakenly assume that the four gospels (Matthew, Mark, Luke, & John) are independent accounts of the life of Jesus. Thus they assume that four corroborated eyewitnesses prove his existence, and the validity of every story told of him. Several facts knock this premise on its ear; but somehow Christians hold fast to their belief still.
First, Luke starts his book by stating that he is drawing up accounts "
as they were handed down to us by those who from the first were eyewitnesses"
(in case that is too cryptic, he is admitting these were the stories told to him; that he was not an eyewitness). Second, we have historical and archeological information that indicates the new testament books were written after 45 CE at the earliest; most were after 90 CE. Third, we have in depth analysis and research that has resulted in plenty of proof that three of the four copy from another. Yet still many Christians think them all perfect accounts of the life of Jesus.
Even his existence cannot be proven absolutely.
Most scholars agree that Mark was written first, and the other three had a copy or version of Mark they built their work from. The most common hypothesis currently is that Matthew used Mark or a version of Mark (M) in conjunction with the Q document (an as-yet undiscovered document). Luke used Mark and the Q document; as well as at least one other source (L), possibly two (J).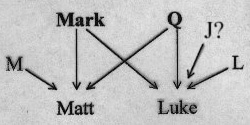 The gospel of John came last, in addition to being very obviously written by a Greek (when original versions are examined). "The Gospel [of John] certainly does not appear to have been written by an uneducated fisherman from Galilee, which is who John the disciple is portrayed as in Gospel stories." John appears to use Matthew, Mark, and Luke; but takes many liberties by using "eloquent Greek prose for the speeches of Jesus" instead of just translating. [
SOURCE
]
Most of you probably knew this, or knew of it in general, so I'll get on with the "new" information.
Seems to me there are four pivotal things about Jesus that Christianity builds on: virgin birth, miracles performed, crucifixion, resurrection.
How much of the Christian doctrine revolves around the resurrection? How much of the Jesus mythology comes crashing down without his return to life?
The last chapter (16) of Mark tells the story of the two Marys going to the sepulcher to anoint the body of Jesus. They discover the body missing and a "young man" (often depicted as an angel) tells them he is risen (the first half of the chapter: 16:1-8). The second half of the chapter (16:9-20) relates the various appearances Jesus put in with those known to him.
The drum roll... Remembering...
Mark was the most original known story of the life of Jesus.
The Codex is the earliest known compiling of the new testament.
The version of Mark that appears in the Codex ends at verse eight.
In the earliest known telling of the life of Jesus, there was no resurrection. For all we really can gather, the body might have been stolen.
How much credence does this lend to Christianity borrowing aspects of other myths, and adding them to the Jesus myth?
Do you think this could be used as an effective arguing tool for Jesus being a mythical figure?